Cathedral Basilica of Saints Peter and Paul Weddings
Weddings at the Cathedral Basilica of Saints Peter and Paul take on an incredibly majestic feel. The crown jewel of the Philadelphia diocese, it is this cathedral that is host to the most important Catholic events in the entire region. It's the largest Catholic Church in Pennsylvania, and its history is crucial to the history of the Archdiocese in Philadelphia. It's also the largest brownstone structure in Philadelphia.
I've probably photographed close to 100 weddings at the Basilica in Philadelphia, and each and every time I have the privilege of shooting there, I'm blown away with the remarkable details of this architectural wonder. The Cathedral Basilica of Saints Peter and Paul opened in 1864, and it sits prominently on the Benjamin Franklin Parkway. As the Catholic Population grew in the U.S., the Philadelphia diocese grew along with it. The Cathedral has hosted events where they welcomed incredible dignitaries such as Mother Theresa, Dom Helder Camara, Pope John Paul I, and Pope John Paul II. More recently, Pope Francis held a mass at the Cathedral Basilica of Saints Peter and Paul where 1600 fortunate Catholics were privileged to attend.
One of my favorite features is the Cathedral organ. It's one of the largest in Philadelphia, with 75 ranks of pipes, 90 stops, and 4648 pipes on 4 manuals and pedals. Its sound is remarkable, and when a bride walks down the aisle in the Basilica, its resonance will send goosebumps down the spine of anyone in attendance. The building is modeled after the Lombard Church of St. Charles in Rome. I've been to Europe, and this cathedral is more similar to a European cathedral than any church I've seen in the states. It's impressive each and every time I walk in there.
For brides, one of the most memorable features of a wedding at the Cathedral Basilica of Saints Peter and Paul has to be the extremely long aisle. When the doors open, and that organ hits that incredible first note, each bride feels like royalty as they walk down the aisle toward her future life partner.
This image, taken during the processional of a recent wedding, is one of my favorites from the ceremony of Mark and Holly, and all eyes are on the bride as she is walking down the aisle. Sometimes, I like to quickly focus on those waiting for her, and then turn my attention to the bride. The length of the aisle provided me with the time to capture this lovely moment.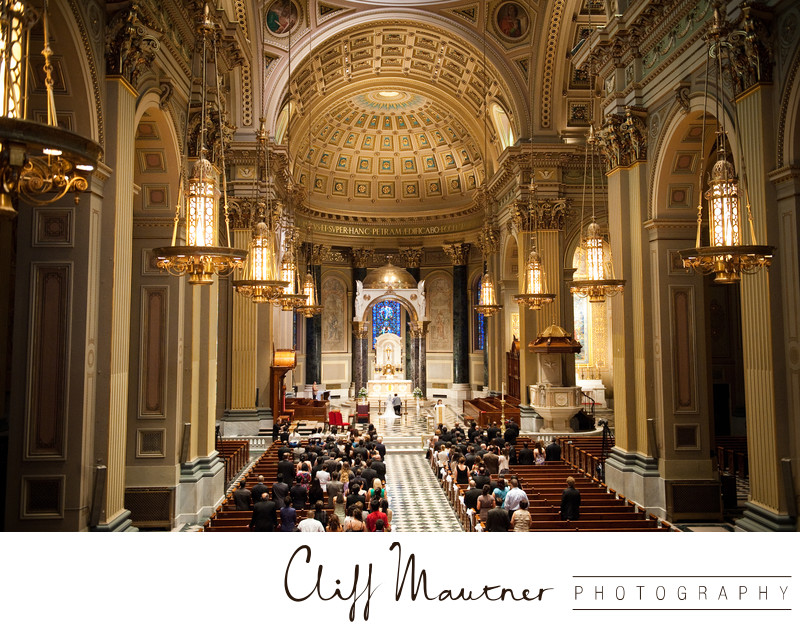 Location: 1723 Race St, Philadelphia, PA 19103.
1/160; f/2.8; ISO 5000; 24.0 mm.