One Atlantic Wedding Photos
1 Atlantic Ocean, Atlantic City, NJ 08401
https://oneatlanticevents.com/

Weddings at One Atlantic are unsurpassed for those who have an attachment to the New Jersey shore. With an area of over 10,000 square feet, One Atlantic is situated 100 plus yards over the Atlantic Ocean, pleasing any bride intent on a coastal theme. No matter the room preference, guests will be treated with floor to ceiling windows, framing the ocean's expanse.
Outdoor weddings can prove problematic for obvious reasons, but One Atlantic solves that dilemma by offering indoor and outdoor ceremony spaces. Both options provide a stunning view of the glistening ocean and the vast stretch of the iconic Atlantic City Boardwalk. Unlike many venues, One Atlantic is open year-round, affording a diverse array of settings and moods throughout each season.
There are four spaces on-site utilized for both ceremonies and receptions. The Lobby, with its lengthy bar and cozy fireplace, offers guests the option for a more cushy setting while still being able to accommodate a larger crowd. On the other hand, the Atlantic Room is an open floor plan, perfect for both ceremonies and receptions, with ample room for dancing. Adjacent to that is the Terrace, which, weather permitting, can also serve as a ceremony space where brides and grooms can say their vows amidst the ocean breeze. In the evening, a couple can enjoy the optional fireworks display to cap off their first evening as married partners. Lastly, The Study demonstrates a much more intimate setting with plush leather couches, warm wood floors, and room for party games and photo booths.
One Atlantic prides themselves on their first-class production team, with "detailed planning and flawless orchestration." No detail is too big or too small, as evidenced by the wide array of services, ranging from lighting, decor, floral arrangements, transportation, and entertainment. Individual planners work closely with brides to ensure their vision of the wedding day is captured perfectly. Their chef produces impeccable fare, with emphasis on genuine, cultural cuisine to placate any budget or palate. Even more impressive, One Atlantic offers their services on off-site premises, exhibiting the same world-class attention to detail and vast expertise of their staff.
For those couples looking to pair nuptials with the natural beauty of a beach wedding, without the worry of less than accommodating weather, One Atlantic satisfies that requirement. Its proximity to luxury boutiques, one of a kind entertainment, casinos, and indulgent restaurants is another bonus, highlighting the best of what Atlantic City has to offer.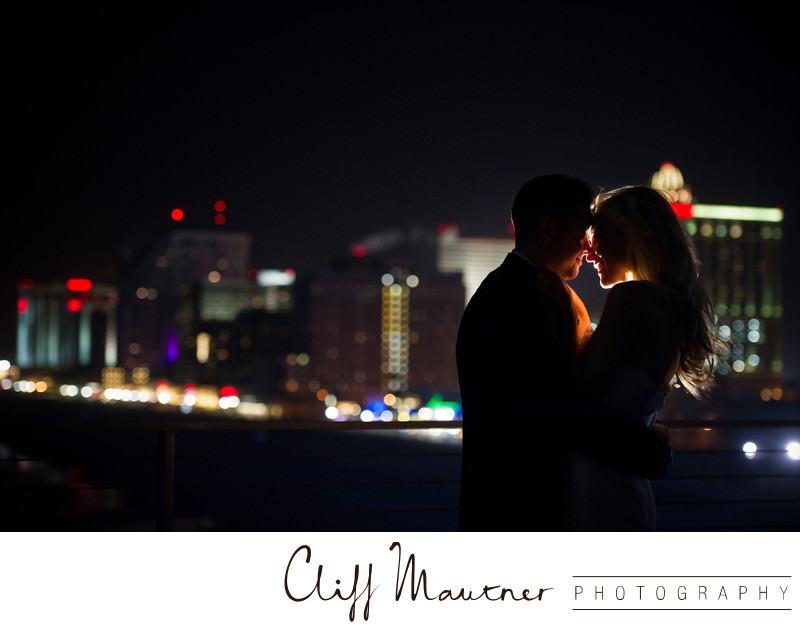 Atlantic City Wedding Photographer
Are you having a Jersey Shore wedding at One Atlantic in NJ? Reach out today for more information on wedding photography for your beach wedding.