Front & Palmer Wedding Photos
1750 N Front St, Philadelphia, PA 19122
http://www.frontandpalmer.com/
Named one of "America's Top 45 Wedding Venues" by brides.com, Front & Palmer is located in the South Kensington Art District of Philadelphia. Founded in the early 1730's by Anthony Palmer, this culturally diverse neighborhood of Irish, English, Hispanic, Puerto Rican, Polish and African American residents has seen an influx of artisans. Local artists routinely open their homes, doubling as studio spaces, to the public. Onlookers can then enjoy the flavors of this district's coffee shops, small eateries, and music venues.
Interestingly enough, the Front & Palmer is a combination of two buildings: one that originally housed pickles (of all things) and the other, a barrel factory. Events take place on the second floor, while the first floor houses their on-site kitchen, overseen by Feast Your Eyes.
Renovated in 2009, the main loft space is impeccably designed for those seeking a rustic wedding with features such as exposed brick, a vintage chandelier, Edison bulbs and original wood flooring.
Brides will find there's very little they have to worry about, with Front & Palmer taking the bulk of the responsibility, including tables, chairs, equipment, and staff. Enjoy the aesthetic of farmhouse tables, adorned with lush floral bouquets and stacked candles in glass vases. This transformative space, made more expansive with its 35-foot ceilings, easily translates for 20's inspired weddings to South Pacific themed ventures.
This open floor plan is ideal for those searching for a venue that doubles as both a ceremony and reception space, with an adjacent lounge favorable for cocktail hour. Up to 250 guests are permitted for a seated dinner along with dancing while cocktail receptions can entertain 325+.
Feast Your Eyes is Front & Palmer's exclusive caterer. Their seasonal approach to menu selection is superb, showcasing mango margaritas and Baja fish tacos in the summer to Barolo braised short rib sliders paired with a carefully selected, bold cabernet in the winter. Impressively, Feast Your Eyes caters parties ranging from small dinner affairs to grand soirees welcoming in upwards of 10,000 guests.
Front & Palmer is very much ideal for those couples necessitating seasonality in their menus, an intimate setting with an emphasis on a rustic chic aesthetic.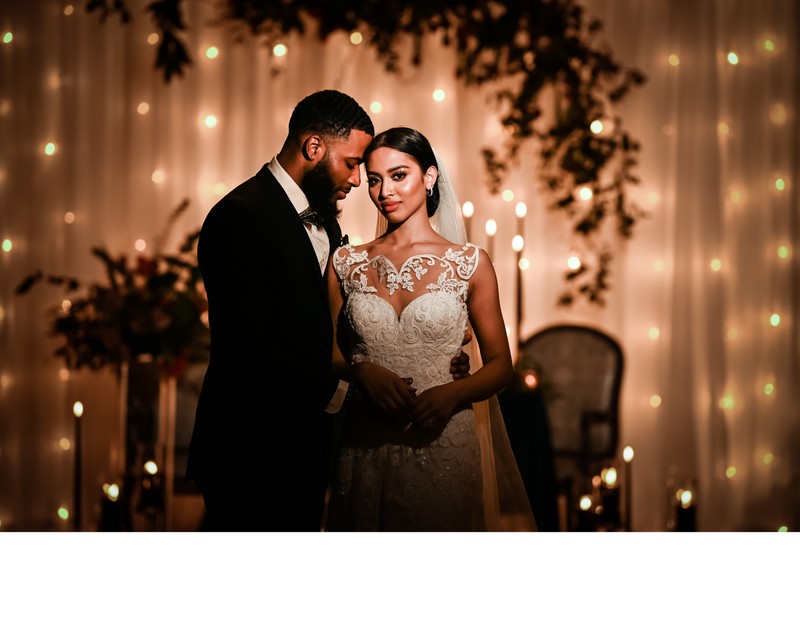 Front & Palmer Photographer
If you are getting married at Front & Palmer in Philadelphia and need a wedding photographer, reach out today — I'd love to hear from you.