Loews Hotel Philadelphia Wedding photos
1200 Market St. Philadelphia, PA 19107
http://www.loewshotels.com/philadelphia-hotel/
The Loews Hotel Philadelphia, formerly the PSFS (Pennsylvania Saving Fund Society) building, is located on Market Street, just one block East of Philadelphia City Hall. The venue overlooks the city with breathtaking views of the Philadelphia Skyline.
Finished in 1932, the PSFS building was the first skyscraper in the United States built in the International style: simple, functional, and without decoration. It was considered the most modern building of its time and was also the first fully year-round air-conditioned building in the country.
A quintessential landmark of Philadelphia, the Loews hotel is the most expansive space for any event. With a total space of 47,000 sq. feet, it's almost a though its range could go on infinitely!
22 different spaces are offered to ensure a dream wedding, including 3 separate ballrooms, so options are not a problem at the Loews hotel. The flexibility of each space, paired with the momentous square footage, makes the Loews Hotel the perfect setting to host events for a long weekend. The hotel itself claims to specialize in South Asian weddings, whose colorful and elaborate festivities transpire over a number of glorious days.
Located in the heart of Philadelphia, the jewel of this spacious retreat is the 33rd floor. Its' terrace surpasses the city skyline to evoke that "on top of the world" feeling. Well, at least the top of Philadelphia! Both the Howe and Lescaze spaces offer direct access to the terrace and are best suited for relaxing cocktail hours.
Saturated in natural light on three sides provided by its sweeping windows, The Millennium Ballroom features towering 30 foot high ceilings, proving that design elements are meant for just the ground floor. Many lavish events have utilized the space above guest's heads to incorporate stunning theatrical elements. The Regency's ballroom space is incredibly flexible, with the option for its 9,000 square footage to be divided into 4 sections for larger weddings of up to 1,000 guests.
Aptly named, the Whiskey & Rye room summons visions of cozy nooks to pass the time comfortably in while seated in leather tufted chairs amidst its rustic warmth. Exposed pipes and beams only add to this sensation, which extends to Bank and Bourbon, the American fare restaurant within its walls. To top it all off, the Whiskey & Rye possesses a "secret room" to serve up to 8 curious-minded guests.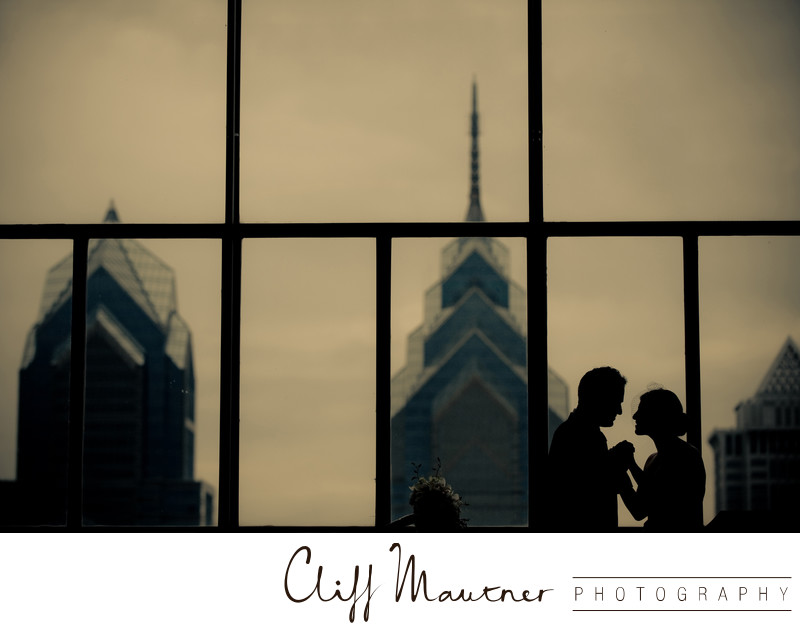 Loews Hotel Photographer
Are you planning your wedding at the Loews Hotel in Philadelphia? Reach out today to learn about wedding photography at the former PSFS building.