The Rockleigh Wedding Photos
26 Paris Ave, Rockleigh, NJ 07647
The Mediterranean ambiance embodied by The Rockleigh is unparalleled in its home state of New Jersey. With their Grand Pavilion, Bristol Ballroom, and 12 acres of Tuscan-themed gardens teeming with lush greenery, it easily transports guests to the likes of a lavish Italian gala.
Ceremonies have several on-site locations to choose from, the most dramatic of which is the Courtyard Georgian Chapel. The large Romanesque columns form a semi-circle, and along with the stone steps, creates a feeling of being on a stage. This spot is particularly coveted for evening ceremonies, where uplighting adds an even more theatrical flair.
Both the Bristol Ballroom and Grand Pavilion serve larger parties up to 275 and include marble dance floors lit by glowing, crystal chandeliers with tables set in fine china, imported linens, and delicate gold chairs.
Imagine indulging in rock shrimp ceviche and Kobe beef sliders that compliment seasonally appropriate cold drinks or bubbly champagne during the cocktail hour in the sprawling gardens. The outdoor spaces of Rockleigh Country Clubs are also very conducive for couples to enjoy a few quiet moments for themselves or for a first look.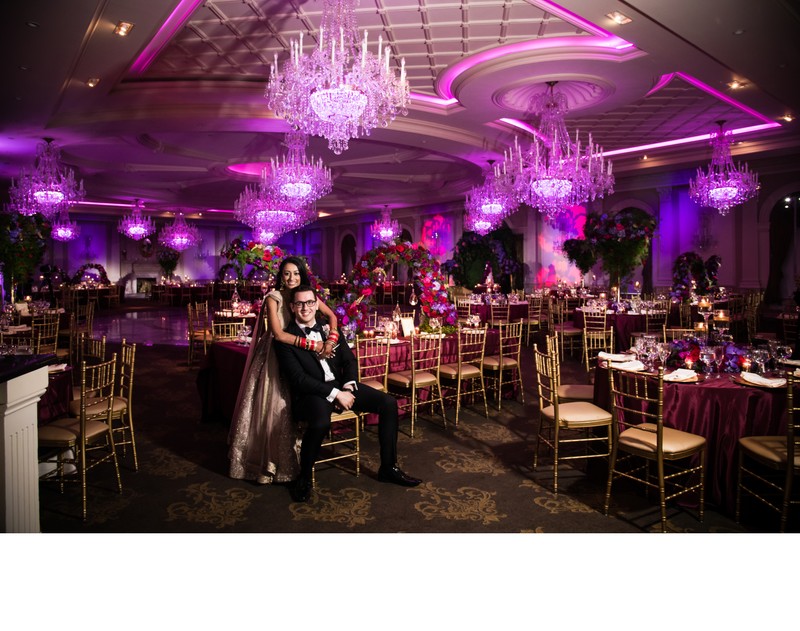 The Rockleigh Wedding Photographer
With a Georgian-style mansion on 12 acres of manicured grounds, The Rockleigh does everything with grandeur. Their cocktail hour, for example, was huge. It's quite a spread, and there was no shortage of food for the guests. I also liked the space's size, as nobody felt too crowded, and the reception area was also spacious, which allowed for plenty of room for dancing.
The Rockleigh is a family-owned business – I believe it's one reason the customer service is so darn good. They have a personal stake in providing a phenomenal experience to the families that trust them with one of the most important days of their life.
Planning a wedding at the Rockleigh? Contact me today!