The Logan Philadelphia Wedding Photos
1 Logan Square, Philadelphia, PA 19103
https://www.theloganhotel.com/weddings
Taking a more modern, yet still sophisticated, approach to their hospitality, The Logan prides itself on its "art-centric" concepts and design. Its location showcases breathtaking views of Philadelphia's Art Museum, which only emphasizes this theme.
Guests can still enjoy the traditional luxury of marble bathrooms and French doors that separate bedrooms from the living spaces. These amenities are paired with vivid color palettes echoed in the local artwork adorning the walls, blending both the classic and contemporary seamlessly.
The Logan is the only Philadelphia hotel to offer 6,300 square feet of outdoor space, which can be tented for any occasion. This lush area conjures feelings reminiscent of a Midsummer's Night Dream with abundant greenery and a tranquil waterfall adjacent to the terrace.
Several locations are available to enjoy cocktails and savor the rustic fare produced by the Urban Farmer, the Logan's premier on-site restaurant. Assembly Lounge provides far-reaching views of Philadelphia's art museum while serving as the site's all-weather rooftop bar. If the drinks don't quite warm you, the multiple fire pits nestled in and around their cushioned seating will. The Commons lobby lounge is a perfect way to kick off the evening with locally distilled spirits in a welcoming and relaxing environment.
With high ceilings and a generous 1,650 square feet of function space, the Grand Ballroom is a great choice for both your wedding ceremony and reception. Even better, the adjoining courtyard and terrace are still accessible directly from the ballroom itself. Alternatively, the junior ballroom, The Stenton, engages couples in a more rustic affair with refurbished barn wood and a cozy fireplace.
Menus created by the Urban Farmer include carefully selected and locally sourced steaks, seafood and produce. Their emphasis on farm to table is unparalleled, featuring grass-fed beef, cider brined pork chop with pear butter, and pan-roasted duck breast with pomegranate gastrique. The fresh quality provided through these local farmers truly shines within this chic city atmosphere.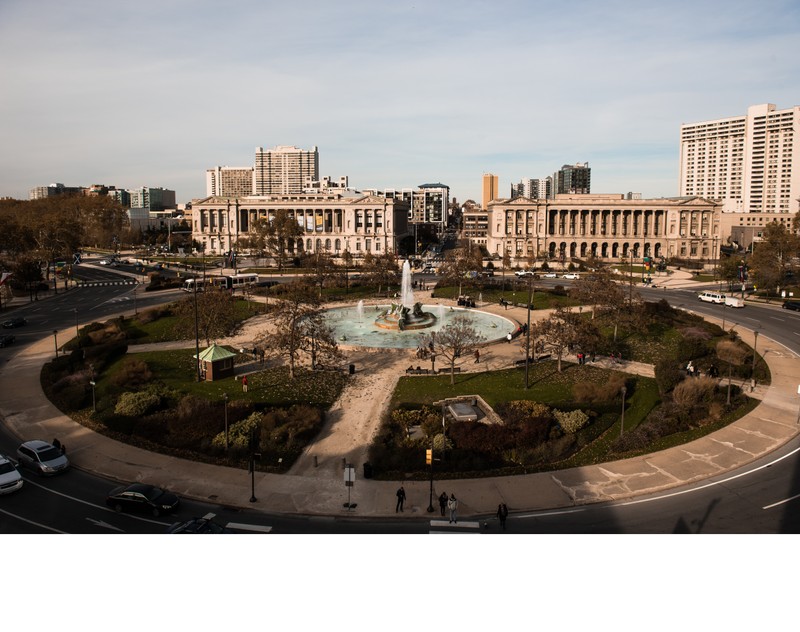 Logan Philadelphia Hotel Photographer
Getting married at the Logan in Center City, Philadelphia? I'd love to talk to you about your wedding photography. Reach out today!