Crystal Tea Room Wedding Photos
Wanamaker Building, 100 E Penn Square #9B, Philadelphia, PA 19107
https://finleycatering.com/crystal-tea-room/
One of my favorite Philadelphia wedding venues is the Crystal Tea Room, on the 9th floor of the Wanamaker Building, right next to City Hall. Crystal Tea Room weddings always provide me with a very old-world Philadelphia feel, and the cuisine is top-notch.
The absolute epitome of refinement, the Crystal Tea Room pairs opulent design with fairy tale touches to make for a more-than-memorable wedding.
Upon entering, guests are immediately met with an open-air atrium, the ceiling soaring overhead, allowing an abundance of natural light to spill in. The experience holds all the benefits of being outside without the inconvenience of less than perfect weather. Cocktails and appetizers are enjoyed among tall ferns and quaint seating. Take a breath, inhale the fragrant scents of the surrounding foliage and let the Crystal Tea Room redefine the standard of elegance.
Up to 900 guests can enjoy the grandeur of the Crystal Tea Room, making it one of the largest event spaces in the city. While the Crystal Tea Room can hold a large number of people, it's also great for a typical wedding of 150-200 or so.
The ballroom was modeled after the tea room of Robert Morris, one of the financiers of the American Revolution. Mr. Wanamaker used to have his office on the eighth floor, one floor below the Crystal Tea Room.
The luxurious space features lavish crystal chandeliers, which seemingly float from the ornate ceilings. Hand-carved statuesque pillars line the perimeter of the room, with a large dance floor and stage in the center, perfect for live entertainment. Choose from a variety of uplighting options to enhance the ambiance.
Widely recognized for their 40+ years of experience, Finley Catering is responsible for the creative and completely customizable menus. Affirming their commitment to refinement, plates are topped with lamb chops, seared scallops, and tartlets. Even the sliders are elevated to perfection, befitting such a distinguished setting.
Fairytales seemingly come true in this real gem of Philadelphia!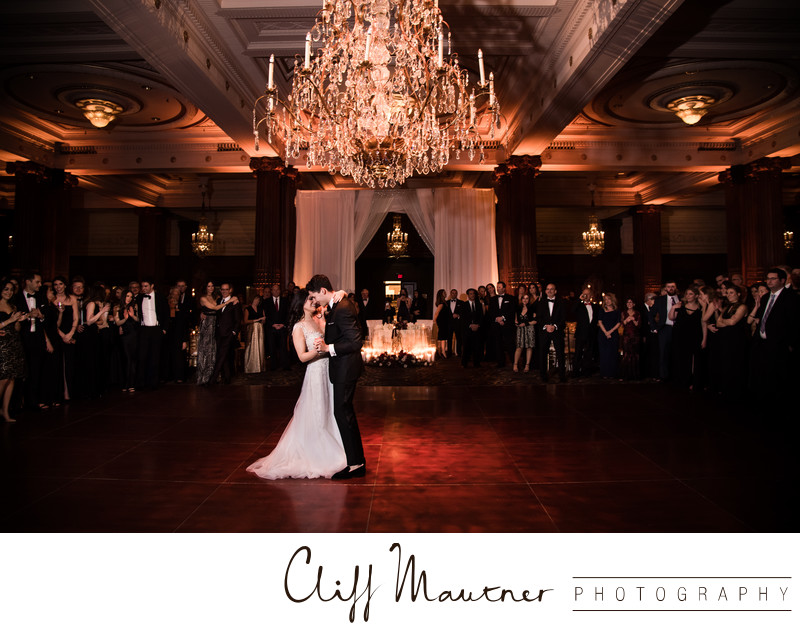 Crystal Tea Room Photographer
Crystal Tea Room weddings have a fabulous, old-world, Philadelphia vibe. For me, personally, it's a great venue because of how simple it is to work there. There is plenty of space for me to store my gear, I never feel too crowded, and the staff of Finley Catering is fantastic to work with.
There are so many great locations to shoot classic Philadelphia wedding portraits immediately in the vicinity of the Crystal Tea Room. Philadelphia's City Hall is just across the street, Juniper Street is just downstairs, and the entire South Broad Street area is a great place to capture urban wedding photos.
Are you getting married in Center City at the Crystal Tea Room? Contact me today to talk about photos for your big event!