Franklin Institute Wedding Photos
222 N 20th St, Philadelphia, PA 19103
One of the more captivating and historical venues in Philadelphia, The Franklin Institute is infamous for the Fels Planetarium, allowing your wedding ceremony to take place under the moon and stars! Fortune 500 companies, US presidents, and foreign dignitaries have chosen the Franklin Institute to host their respective events.
For those who prefer to take advantage of the warmer months, the rooftop offers stunning views of the Franklin Parkway and greater Philadelphia which serve as a spectacular backdrop to the day's nuptials.
Let Ben himself oversee your reception, literally! The cornerstone of receptions in the Benjamin Franklin Memorial Hall is the 20-foot marble statue of the man himself, surrounded by 16 marble columns and an 82-foot domed ceiling. The space has state-of-the-art visual and audio capabilities to further enhance its use and endow each event with its own uniqueness. Adjacent to the hall is the Jordon Lobby and Bartrol Atrium, offering ever-expanding space to accommodate larger parties or transition from cocktails to dinner.
Looking for a more intimate setting? Pepper Hall, the original reading room for the first Patent Library in the country, offers rich, mahogany bookshelves, antique flooring, and a hand-stained ceiling for that understated but still elegant affair.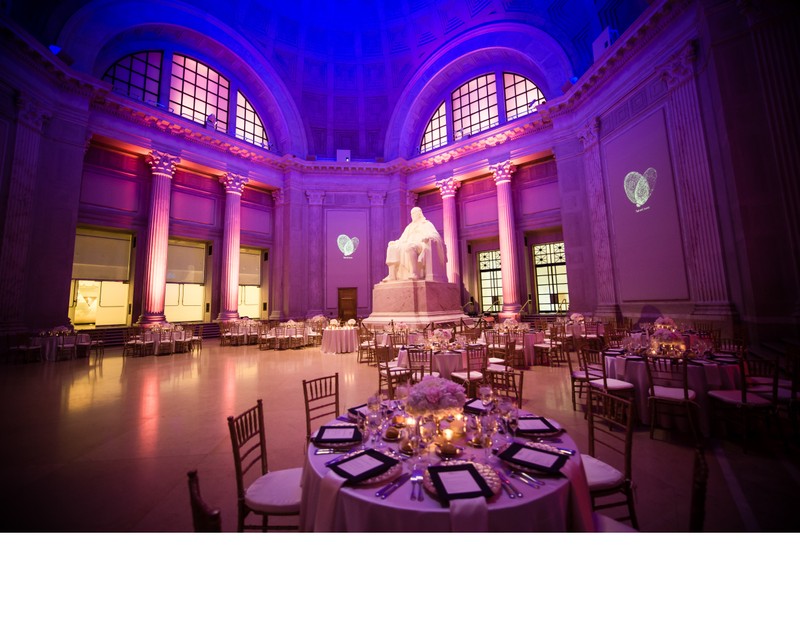 Franklin Institute Photographer
Planning your event at the Franklin Institute in Center City, Philadelphia? Reach out today to learn about photography for your big day!