Union League Wedding Photos
140 S Broad St, Philadelphia, PA 19102
https://www.unionleague.org/event-planning/information-request.php
If you're looking for an "old world" feel, a wedding at the Union League of Philadelphia might be for you. The Union League is steeped in history. Founded in 1862 to support the union during the Civil War, its main goal was and has always been to advocate for the military in every conflict since the days of President Abraham Lincoln. The Union League's motto still remains, "Love of Country Leads." In addition, the Union League's philanthropic endeavors include the Youth Work Foundation, the Scholarship Foundation, and the Abraham Lincoln Foundation.
Positioned just a short walk from Philadelphia's City Hall, the Union League encompasses an entire city block and is easily recognizable with its French Renaissance architecture and twin circular stairs at the main entrance. With over a quarter million in square footage and 8 floors, the Union League lends quite a number of options for any type of event.
Inside, the decor is very reminiscent of old-world grandeur with a combination of rich mahogany walls, leather, and gleaming marble. Not only is the Union League suited for both ceremony and reception, but they extend a complimentary night for the bride and groom, so you won't have to venture far.
The menu at the Union League is equally as boundless as its multitude of rooms, with a four-course dinner, wine service, champagne toast, and wedding cake all included. Guests will indulge in sliced soppressata, salami Toscano, marinated olives, prosciutto-wrapped melon with assorted cheeses to kick the celebration off.
Weddings at the Union League of Philadelphia can accommodate intimate weddings in the Meade Room or very large weddings in the Lincoln Ballroom. Their catering staff is incredible, and they're quite helpful with the planning.
Having been ranked the #1 city club in America, it's no wonder that the Union League has seen the likes of government figures, presidents, entertainers, and countless dignitaries cross its threshold. For those with an affinity for history, the Union League definitely fits the bill! It's also a great way to showcase Philadelphia's rich history to out-of-town guests, who will marvel at the art and artifacts in every room, which stem from the early 19th century to present. The feeling is truly that of walking through history!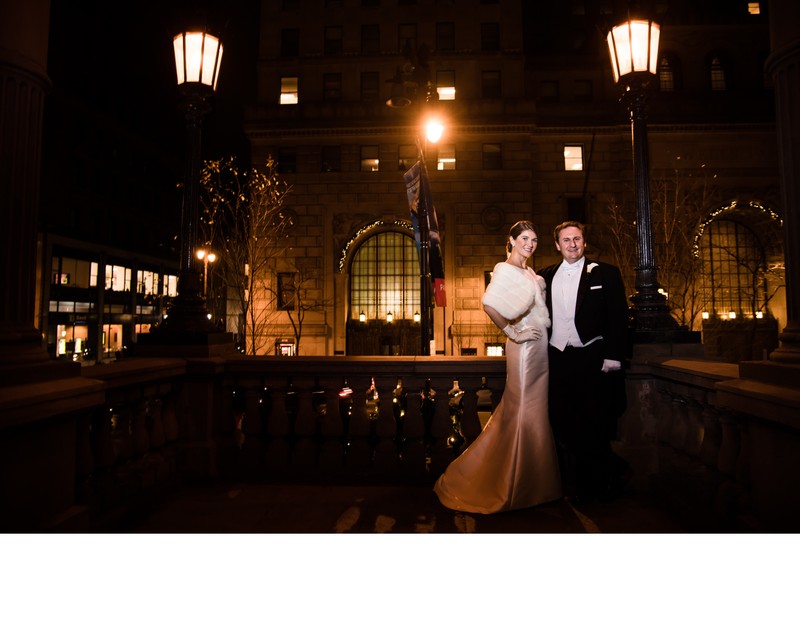 Union League Photographer
I have shot many, many Union League weddings, and I'm always treated extremely well, and so are my professional colleagues. For an iconic view of the Avenue of the Arts, we will often head outside for a quick photograph of Philadelphia's City Hall at night. It's always a crowd-pleaser! The Union League also boasts one of the more interesting staircases leading up to the lobby, and I've often used that for portraits and first looks.
If you're getting married at The Union League and are looking for your photographer, reach out today for more information.