One North Broad wedding Photos
1 N. Broad St. Philadelphia, PA 19107
Philadelphia is filled with iconic architecture, but the Masonic Temple located at One North Broad Street is most distinct. The Medieval Norman-style structure exhibits a dominant presence from the street view. The elaborate interior, encased in marble, infuses history into its walls—both the library and museum showcase items belonging to George Washington, among other notable figures of history.
"Grand" is most certainly the theme, with over seven lodges within the temple, two foyers, and a grand ballroom that seats up to 250 for a dinner like no other. The option to open the space into the grand foyer allows up to 450 total guests, extending this already boundless setting.
A large bronze statue of Benjamin Franklin overlooks the vast space encompassing the Grand Ballroom. Its walls comprised of stained glass and intermingled pillars are the perfect backdrop to any stately affair.
Catering by Design provides exceptional menus, with ingredients sourced locally and infused with a global flair, and uncompromising services for decor, entertainment, and floral arrangements. This assures that couples will feel at ease with their streamlined accommodations.
The architecture inside and out creates numerous photographic opportunities, with emphasis on the dramatic. The temple's front facade, lighted at night, indeed emphasizes its grandiosity. The double staircase that connects the ballroom and foyers sweeps gently down either side, creating a most spectacular entrance.
Drama, opulence, and history all shine seamlessly at One North Broad.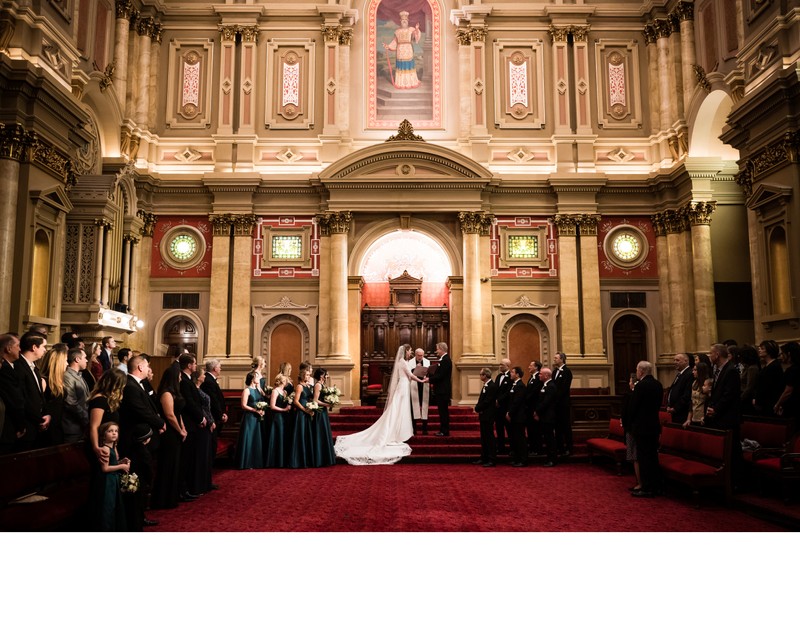 One North Broad Wedding Photographer
Looking for a photographer for your Philly wedding at One North Broad? Reach out today to learn more.