Park Chateau Estate & Gardens Wedding Photos
678 Cranbury Rd, East Brunswick, NJ 08816
Halfway between Philadelphia and Manhattan, the Park Chateau Estate & Gardens is set on 15 acres of rolling hills and landscaped gardens in East Brunswick, New Jersey.
Weddings at the Park Chateau provide the ideal combination of terrific food, great photo locations, and excellent service. Complete with its own chapel and several areas for outdoor ceremonies, the Park Chateau has everything you need to spend your entire wedding day on its gorgeous grounds. With gorgeous preparation suites, indoor and outdoor ceremony spots, and a grand ballroom, you and your guests won't need to venture far for a perfect wedding. The Park Chateau really does have it all.
As a photographer, this venue allows me to document a wedding day with ideal locations. Its meticulously landscaped ground creates a stunning backdrop for my images. The bridal suite is enormous and has an entirely separate salon area where the bride and her bridesmaids can prepare. I often experience hair and makeup teams set up in front of a venue's windows, which tends to hinder what I can do photographically. With the salon area, the hair and makeup are taken care of in a completely separate portion of the suite. This frees up space, and it never feels crowded.
Park Chateau's onsite chapel is the perfect spot for a traditional wedding ceremony. Or, choose an outdoor garden setting.
Food and decor can be customized to your liking, and all options are top-notch! Cocktail hour is phenomenal. The catering staff takes great pride in setting this up flawlessly.
The Park Chateau offers the perfect venue for those looking for elegance in the Tri-State area, from the wedding preparation to the reception.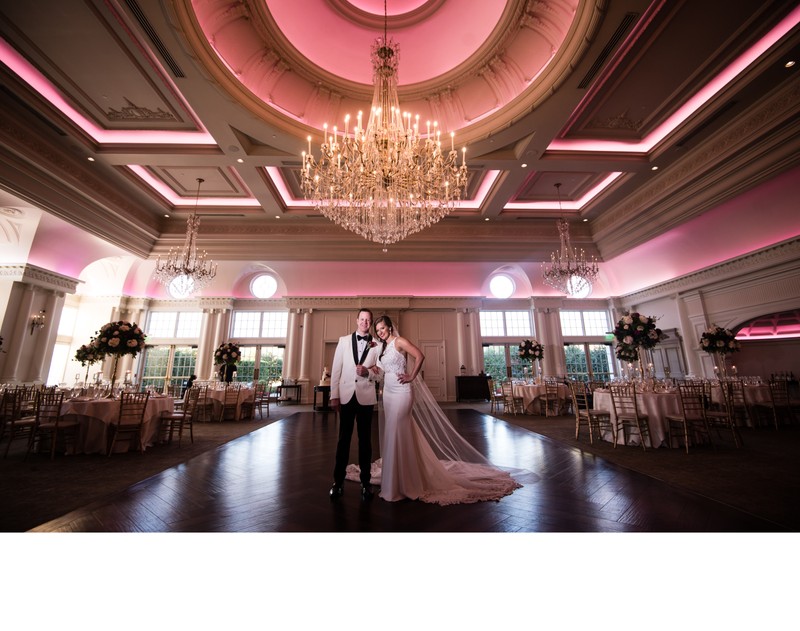 Park Chateau Estate Photographer
Getting married in East Brunswick at the Park Chateau Estate & Gardens? I'd love to talk to you about your wedding. Contact me today!