Wedding Photography Pricing
Wedding Collections
I am happy to share my rates and package information with details on my products and services. Please contact me for pricing info.
I'd be glad to walk you through the rates for all-day photography coverage, overtime, albums, album upgrades, parent albums, proofs, photographic prints, and more. You can choose from any of my standard options, or we can create a custom package just for you. I welcome any and all questions about my services, and greatly enjoy the opportunity to talk to potential clients about their wedding days.
Custom Wedding Albums
Albums can be 10x8, 12x12, or 14x11, and are handcrafted with the finest materials. Photos are printed on photographic paper, for the truest colors and best quality image.
A variety of cover materials are available, including leather, vegan leather, linens, and silks. Two lines of imprinting are included on the cover, with options to customize your album further with cover portraits, acrylic photo covers, and additional pages.
I offer several different styles of wedding album:
Flush Album
A magazine-style album that allows an image or images to span across the entire spread (2 open pages = 1 spread). This style is the most flexible in design since the pages can be one large image, edge to edge, or a layout with multiple images per page.
This is our most popular style with clients!
Matted Album
The more traditional matted album features images physically printed and mounted into the album. Images are surrounded by mats, and the pages lay flat when opened.
Combination Album
A fusion of both the flush and matted styles. Predominately a matted album, with several flush sides incorporated throughout the design to highlight specific moments or images on a grander scale.
Perfect for those clients who just can't decide between the flush or matted styles!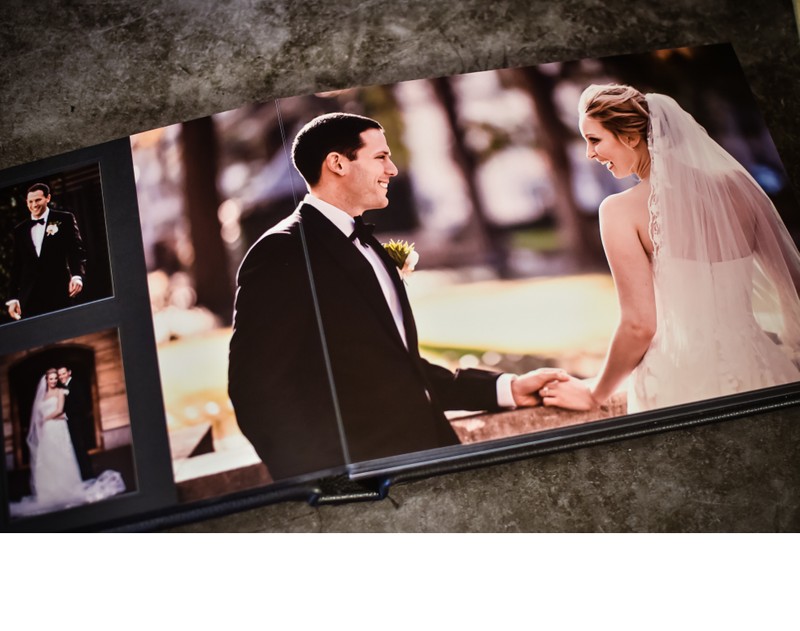 Want more info on the album design process? I have answers to your Frequently Asked Questions about wedding albums.
For full pricing or to set up a time to meet at the studio and see the albums in person, reach out today! I look forward to talking with you about your wedding day.